LAKE MACQUARIE FIELD ARCHERS
3D Archery - The Family Sport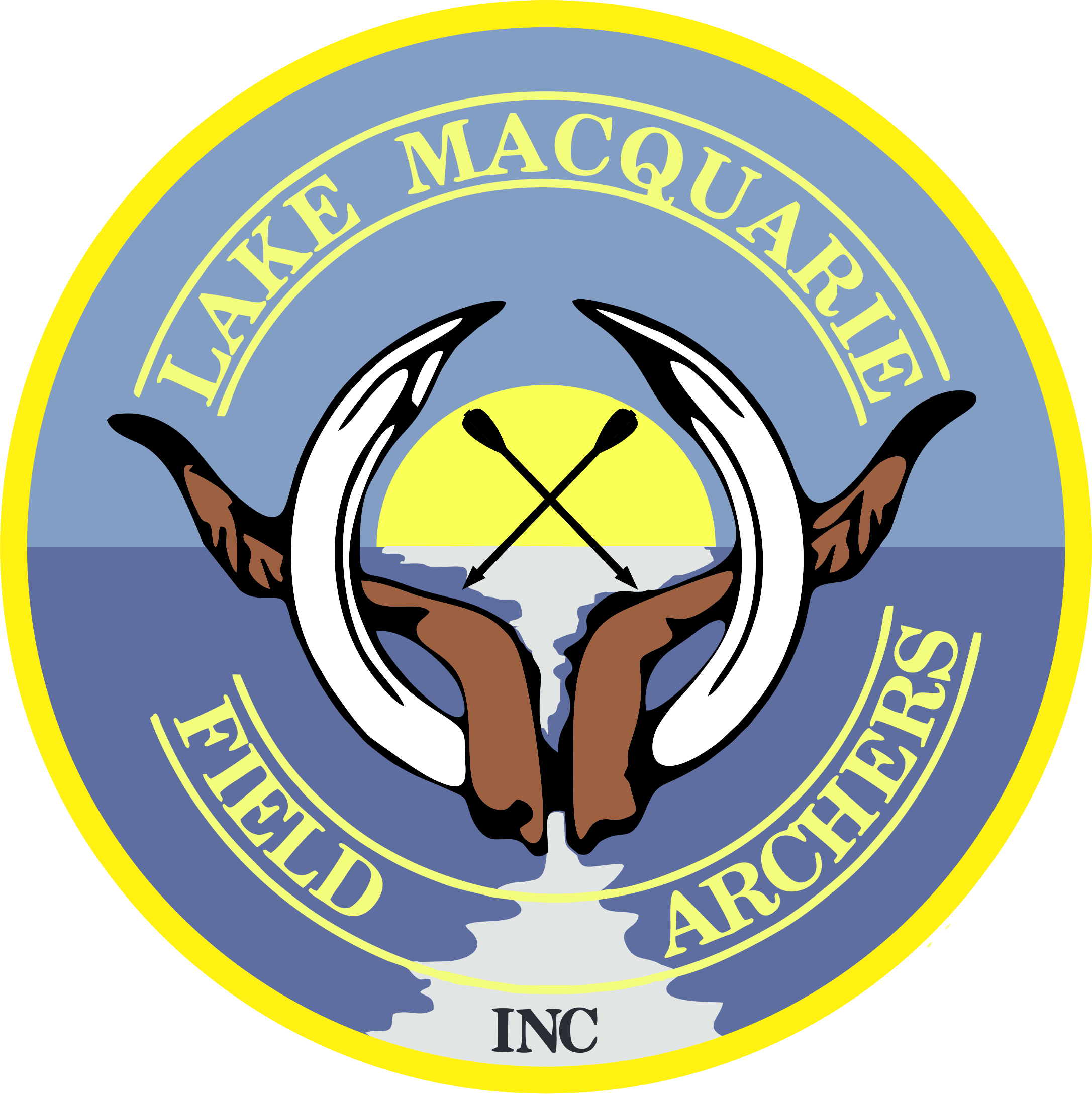 We are located on the Western side of Lake Macquarie, NSW. Just South of Newcastle and just North of the Central Coast. Easily located just off the M1 Motorway.
Take the Palmers Road (Toronto) exit.
The entry road is a little rough, but don't let that put you off. It is easily accessed by all vehicles
Our pointscore competition runs on Sundays, roughly every 3 weeks from February to November...
Casual Twilight shoots on selected Saturday evenings during daylight saving.
Throw in our major 2 day event in August and Sanctioned Away shoot each month and there is a full year of archery fun to be had. Check out the calendar to see when you could join us for a shoot. DOWNLOAD PDF
Check out your latest results at this link. Whether competing against your mates, or just against yourself, the scoreboard tells a wealth of stories.
Lake Macquarie Field Archers Inc. is an archery club associated with the 3D Archery Association of Australia (www.3daaa.com.au)
​
3D archery involves shooting targets at varying, unmarked distances in bush terrain. Targets used are life-size models of game animals such as deer, foxes, pigs, turkeys, bear etc.
​
We are a family friendly club and welcome every member of the family to come and enjoy our sport.
5/12/23
A fabulous day had by all at our Christmas Party, awards day and Annual General Meeting.
Congratulations to all award recipients.
Full listing of Pointscore results for the year can be seen HERE
​
15/8/23
We now have scores in from 8 rounds of our club pointscore competition for 2023.
Interim results are now available at this link (note: document updated 29/8/23 to make some corrections)
End of year competition is based on the aggregate of your top 5 scores for the year, so with 5 rounds still left in the season everything is still up for grabs.
​
30/7/23
The countdown is on for the Lake Macquarie Classic to be held at our club grounds on August 4-5, 2023.
Here is the PRENOM LINK
23/12/22
Scores for 2022 Pointscore Competition, and official club awards as presented at our Christmas party on 5/12/22 can be found at this SCORES link
The new calendar for 2023 has been published, and can be found at THIS CALENDAR LINK
First working bee for the year will be 28th January 2023.
Our registration day and first pointscore shoot will be 29th January 2023.
Wishing all our members, friends and families a fabulous Christmas and New Year.
​
6/8/22
We now have scores in from 7 rounds of our club pointscore.
Interim results are now available at this link
End of year competition is based on your top 6 scores for the year, so there is still plenty of time to push your way up the rankings.
31/7/22
Prenoms are open for the Lake Macquarie Classic to be held on 13-14 Aug 2022.
Follow THIS LINK to let us know you'll be joining us.
​
7/7/22
Working bee Saturday 9/7/22. Painting day to spruce up the clubhouse.
Make sure you lock away the weekend of 13-14 Aug for our annual 2 day shoot - The Lake Macquarie 3D Classic.
​​
15/2/22
The official calendar has been issued by the LMFA committee. No major changes from the previously issued draft. PDF can be downloaded here
Next club shoot is Sunday 20/2/22.
1st away shoot for the year is the Milbrodale Mountain Classic hosted by Cessnock Archers 26-27/2/22
Try Archery Day - open to all ages and experience levels on Saturday 12/3/22
26/1/22
Our Annual General Meeting was held on Sunday 16/1/22. A new committee has been appointed, with Tim Richards taking up the reins as President. AGM Minutes can be found here. A big thank you to Mick McRae who steps down after 4 years as President.
Our 2022 calendar has been published in draft form (click here to view) and will be ratified and issued formally by the new committee shortly. First club Pointscore shoot for the year will be on Sunday 30/1/22. Register before 09:00 am for a 09:30 am start.
​
17/1/22
Final Pointscore results and annual awards for 2021 are now available at this link.
Congratulations to all recipients.
The new competition starts at our first shoot of the year on Sunday 30th January.
​
15/11/21
State series prenomination is open, please check out the Events page to register.
​
26/10/21
New calendar has been uploaded with all the new dates for the rest of the year. Remaining pointscore dates are : 31st Oct, 21st Nov, 12th Dec. Our state series round has been moved to 4th/5th December.
​
23/7/21
We have swapped over to a new lock on the front gate, so new keys are now being issued.
If you have an old key, bring it to the club on a shoot day and we will swap it over for you at no cost.
If you have been a club member for more than 3 months and you are known to our committee you can get a key for $40 (of which $20 is a refundable deposit).
​
4/5/21
We're 6 club shoots into season 2021, so it's time to check in on the scores. View at this link.
It's not all about competition. It's about tracking your own progress and being better than you were before.
Onwards and upwards!
​
17/12/20
New Calendar for 2021 has been issued. Check this link for a whole new year of archery fun1
​
13/12/20
Well 2020 is done and dusted. A very tough and mixed up year for sure, but we got there in the end.
The AGM and Christmas Party went off well, and we have a new committee on board to launch us into 2021.
Final pointscore results and club awards for the year can be viewed at this link
​
3/12/20
Annual awards presentation, Annual General Meeting and Christmas party will be held at the club grounds SUNDAY DECEMBER 6th, 2020.
Presentations kick off at 9:30am.
Looking forward to seeing all our members there to celebrate having survived a challenging year!
26/7/20
Lake Macquarie 3D Classic will be held on 15-16th August 2020.
Due to COVID-19 requirements, pre-nomination is essential.
Visit this link and complete the form for each person who will be attending.
20/7/20
COVID-19 UPDATE!!
Good news fellow archers! We are now resuming our club shoots, and have updated the calendar to try and fit in as many pointscore shoots as we think is reasonable. Thanks to all the working bee volunteers that helped us clean up the ranges and practice butts.
**NOTE**: Please read the new hygiene rules relating to staying safe during the current COVID situation.
They will be located at the practice butts and on our message board.
​
=========================================================
To all members and friends of LMFA.
As of 17/4/2020, 3DAAA have provided an updated status on COVID-19 and its impact on archery activities.
My attempt at summarising:
- All 3DAAA sanctioned and special events on the 2020 calendar are postponed/suspended for 2020.
- Contingencies are being explored to reschedule or conduct some events later in year if opportunity allows.
- All clubs are directed to comply with federal and state requirements. 3DAAA have strongly advised clubs to NOT use their grounds for ANY club activities. THIS INCLUDES INDIVIDUAL PRACTICE ON CLUB GROUNDS, as travel to the archery range is not considered essential.
- Any club activities that do not comply with 3DAAA advice void our insurance and leaves our club exposed to liability.
Full details have not yet been posted publicly, but I expect will be soon at www.3daaa.com.au
As such, all Lake Macquarie Field Archers club shoots, twilight shoots, try archery days and individual practice on club grounds remain suspended for the time being.
Really sorry to everyone. Archery and the family around it are an important part of all of our lives. Look after yourselves and each other. Take advantage of social media to stay connected as much as you can.
We look forward to resuming normal activities as soon as possible.
=========================================================
1/3/20
Today was the 2nd day of the Milbrodale shoot with great weather all weekend. The club was well represented, with most of the regulars and a few new to the state series. Speaking with most people, they enjoyed all the challenging targets, even the turkey from 3m away at a ~45 degree angle. We appreciate all the volunteers that gave their time and energy to make these wonderful events happen.
​
23/2/20
While today was round 2 of the clubs pointscore championship, it is the first available event due to torrential rain over round 1 weekend.
Weather was fantastic, but unfortunately the mozzies were also out enjoying the weather and the shooters too.
The range was on the easier side of challenging, apart from the longer distance bundy bear, set by a few cheeky people.
​
8/12/19
The 2019 Christmas Party, Awards Presentation and AGM went off spectacularly today. Loads of great food and fun were enjoyed by our LMFA family, and made us all appreciate the great things that we have going with our club.
Congratulations to all the award winners. Final results from our Pointscore competiiton for 2019 can be found at this link
​
27/11/19
On Sunday 8th December 2019, we will be holding our Club Christmas Party, Annual Award Presentations, Fun Shoot and Annual General Meeting. Lunch will be provided free for club members. Come on down and help us to close 2019 out in style.
If you are interested in joining our committee for 2020, please consider nominating yourself for one of the many roles that are up for offer.
Come and speak to one of the current committee if you would like further information.
​
28/9/19
The year is getting away from us, and we have only 4 more Club pointscore shoots before our annual presentations.
Our Pointscore competition is based on the aggregate of your top 6 scores throughout the year, so you've still got a chance to pull in a few good rounds and push your way up the rankings.
Interim scores can be found at this link: Pointscore 2019 Interim Scores 28/9/19 (edited 11/10/19 to correct error)
​
24/9/19
The Lake Macquarie City Games 3D shoot was held on 15th September, and was a great success.
Full scores from the day can be found at this link
​
3/6/19
We're now 7 shoots into our 2019 Pointscore season. Check out the interim scores at this link.
End of year results will be based on the aggregate of your top 6 scores submitted throughout the year. There's still plenty of time to log some good rounds and see your name jump up the rankings. Our next shoot is on Sunday 16th June.
​
The 2019 Lake Macquarie Classic, held over the weekend of 18-19 May was a resounding success. Thank you to all club members who helped it to happen. Outstanding shoot results for were turn in by some of our members. Check them out on the 3DAAA website at this link.
A story about the event, along with some photos can be found at this link
​
Good luck to all our club members shooting at Casino for the State of Origin Shoot on 8-9 June 2019.
​
15/4/19
The weekend just gone was a big one for LMFA members who attended the Lake Glenbawn Sanctioned shoot.
Al Park, Josh Radoll and Blaine Scarr brought home our first club team win for the year.
No less than an outstanding 6 LMFA members came away as division winners, with and 15 medals total.
To top it off we had 3 members (Blaine Scarr, Josh Radoll and Fenn Wells) in the Top 10 shootout.
​
The next sanctioned shoot of the year will LMFA's big home event of the year on 18-19 May, 2019.
Make sure to mark it in your calendar. It will be an event not to be missed.
​
9/12/18
Final awards list and scores from our club pointscore competition for 2018 have been uploaded AT THIS LINK.
​
5/11/18
Good luck to all LMFA members attending the 3DAAA National Titles in Nambucca Heads this coming weekend 10-11/11/18.
We've been working up to it all year. Now is our time to shine!
​
Due to the number of people travelling, please note that THERE WILL BE NO TWILIGHT SHOOT ON THIS THURSDAY 8/11/18.
​
Travel safely everyone, and we'll see you in Nambucca.
​
2/10/18
Congratulations to all who competed so successfully at Moonan Flat over the long weekend. Congratulations to Mick McRae, Darren Ross and Josh Radoll who managed to take out the Club Team win in the event, and to James Cooze and Donna Gilroy for making their first top 10 shootout appearances. Thank you to Cessnock Archers for once again putting on such a sterling event
​
Twilight shoots will be commencing from THURSDAY 11th October. Gates open from around 4:00pm. Start from 5:00pm.
$10 Adults / $5 Juniors and Cubs. Includes Sausage Sandwich.
Please note that contrary to the prior published calendar, there will be no twilight shoot on the 4th Oct, due to Daylight Saving starting a week late this year.
​
3/9/18
The last interim Score update for our Club Pointscore comp for 2018 has now been published at this link.
We still have 5 shoots left in the season. You only need 6 shoots to qualify, and the competition is decided on your best 6 shoots of the year.
So there is still plenty of time to put in those killer scores and work your way up the leaderboard. Game on.
​
19/8/18
Thanks everyone who came to the highly successful Lake Macquarie City Games shoot today.
Results can be seen at this link.
Thank you to Lake Macquarie City Council for their kind support.
4/8/18
Click ON THIS LINK to see the latest club calendar. We have made a minor tweak, with
- the removal of the Wingen matchplay in September,
- an update to the listed committee members, and
- the inclusion of a TRY ARCHERY DAY ON SAT 8TH SEPTEMBER. Make sure you spread the word.
​
Also don't forget our One Day 3D Event as part of the Lake Macquarie City Games on Sunday 19th August. Open to all 3DAAA Members and prospective members.
​
25/6/18
Slight edit to interim results to catch some missing scores. New scores at this link. Now includes scores posted from 17/6/18 as well.
​
14/6/18
We're now 7 shoots into our 2018 Pointscore season. Check out the interim scores at this link.
There's still plenty of time in the year to log some good scores and see your name jump up the rankings. Our next shoot is this coming weekend on Sunday 17th June.
24/5/18
The Lake Macquarie 3D Classic went off with a bang over the weekend of 19-20th May 2018. 5 great ranges, magnificent weather and a top-notch canteen had everyone leaving with smiles. Thank you to our great sponsors: Big Fella, Tenzone, Benson Archery and Screen Signs.
We're back into our Pointscore series on Sunday June 3rd.
​
16/4/18
Preparations are in full swing for our big annual invitational shoot -THE LAKE MACQUARIE 3D CLASSIC - To be held at our club grounds on 19th and 20th May, 2018. We encourage all of our members and the broader 3DAAA community to come along and shoot it out for the trophies, and to attain points towards the NSW State Series and National Titles.
​
We also encourage all of our members to jump in and help out with the many tasks that need to be ticked off the list before the event. Check your calendar for working bee dates!
​
16/1/18
The year is up and running. Thursday twilight shoots have commenced. Our first working bee is on Saturday 3/2/18 and our first pointscore shoot on Sunday 4/2/18. Membership renewals are now due.
24/12/17
Our 2018 Club Shoot Calendar and the 3DAAA National Calendar have now been published, and can be found at this link
Merry Christmas to everyone from us at Lake Macquarie Field Archers.
7/12/17
Full results for the 2017 Pointscore competition are now available on the Scores page, at this link.
Congratulations to all of our prize winners, and thank you to all shooters who competed throughout the year.
14/11/17
Congratulations to all Lake Mac members who attended the National Titles this weekend at Nambucca Heads.
We had around 19 members attend, and some great scores were posted.
Regardless of whether you brought home a trophy or not, thank you to all members who represented our club in the away shoot series this year. You've all helped Lake Macquarie continue to stand proud within the 3DAAA community.
Full results from 3DAAA Nationals are available at this link
​
2/9/17
Only 6 shoots to go on the 2017 calendar.
As we head into the home stretch, check out the progressive scores at this link.
There's still plenty of opportunity to put in some killer scores and make up your 6 shoot minimum to qualify for end of year awards.
​
2/7/17
Awesome shoot today for the Lake Macquarie City Games 3D Archery event.
Scores are now available on the at this link
​
5/6/17
We have issued a revised version of our club calendar. This reflects the change in date for Indoor Nationals as advised by 3DAAA, and also a change in the date for our Christmas Party and AGM. Revised calendar can be found at this link
Please ensure any old calendars are destroyed, and print out this new version for your reference.
​
24/4/17
We're now 6 shoots into our 2017 club pointscore series.
Interim results have been posted on the scores page.
Division competitions over the year are calculated as the aggregate of each shooters best 6 shoots, with a minimum of 6 shoots to qualify.
Some great scores have been achieved. Check them out and see how you are progressing.
​
19/3/17
Congratulations to LMFA members who represented our club so well at the inaugural Jack Carney challenge hosted by Cessnock Archers over the weekend. And thankyou to our friends at Cessnock for putting on such a fun event.
​
19/3/17
Welcome to the relaunch of the LMFA website. Content is still under construction, and we'll populate with more photos as we go along. Have a look around and tell us what you think. Send feedback to webmaster@lmfa.com.au